Description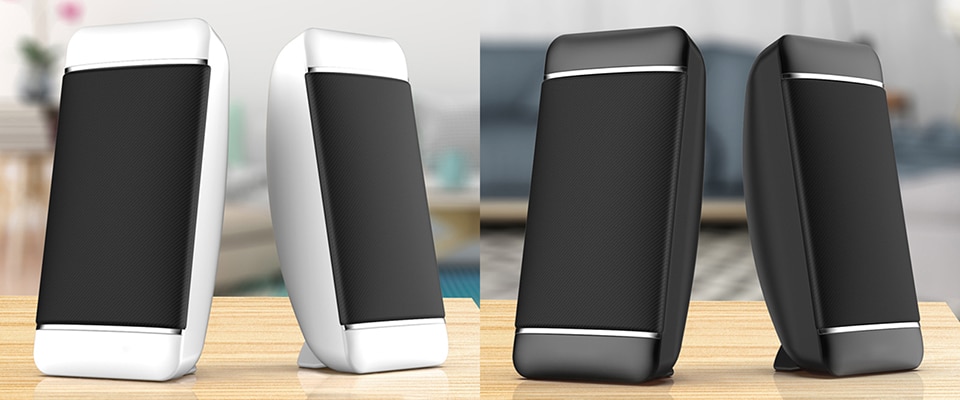 NOTE
The speakers needs USB plug and AUX plug to access the computer at the same time to work, AUX connector for audio output, USB plug for power supply, if the speakers don't work, please contact the seller at the first time, instead of anxious evaluation, we will deal with the problem in time, thank you for cooperation.
Product features
1.Compatible with most system devices:
Only need a USB port to charge, the speaker compatible with all 3.5mm audio interface devices, such as desktop computers, laptops, mobile phones, MP3, MP4, etc.
2.Professionally designed acoustic cavity structure:
Space stereo sound design allows you to enjoy high fidelity sound.
3.360° increase to the ground:
Playing music is, the bass booster constantly vibrates downwards, the low frequency sounds through the desktop, and the 360° spreads around.
4.Bass boost technology:
Audio Circuit Technology + Physical Acoustic Pressure Resonance Design;
Small speakers also provide amazing bass and powerful stereo.
5.Powerful and amazing stereo sound:
Full-range high-fidelity dual speakers,reproduce live sound
Product information
1.High quality wire:
High-conductivity copper core wire to prevent poor contact, improve wear and corrosion resistance, and more stable.
2.Volume adjustment:
Roller-controlled volume adjustment, convenient and easy to use.
3.2 x 4Ω 3W high quality horns:
The sound is mellow and the sound quality is clear.
4.Superior materials:
ABS injection molding material,bumping will not damage the speaker.
5.Simple design, easy to install and use:
Two speakers can be placed separately 90cm,cable length 130cm.
Package
1 pair speakers in box